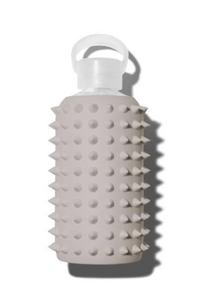 BKR
BKR | 500ml Glass + Spiked Silicone Water Bottle
Regular price
$56.00
$0.00
Unit price
per
Opaque introspective warm concrete grey
Glass + spiked silicone water bottle
Your water bottle soulmate.™
bkr is like the perfect t-shirt of water bottles. It's soft and pretty, it feels right and fits right, you want it in every color, and it becomes an extension of you. Once you have a bkr bottle it's hard to imagine life without it.
This is called the Little Spiked bkr. Our original glass water bottle with a soft spiked silicone sleeve inspired by a love affair with everything spiked at Barneys NY. Our little spiked water bottles are not only très chic, they also provide life-changing grip for people with mobility issues and are better than a fidget spinner for anxiety. We've heard they've made a huge difference in the lives of many, from cool grandpas to people with rheumatoid arthritis and mild cerebral palsy. The spikes are both firm and soft and feel great in your hand. The Little holds up to 500ml (16 oz) and fits in your tote bags, your backpack, your travels, and your life for everyday drinking. 
Heather Color. Inspired by the inevitable and beautiful mist that covers a city that's never bothered to be like anywhere else. Waking up in the early morning to the dull roar of a foghorn and a view of nothing, permission to not feel guilty about staying home, the consoling protective layer that makes light softer and sounds quieter, and everything that is partially whimsical, partially gloomy, completely relentless, hair-frizzing and ethereal, that pushes us inward. "Someone's stolen Oakland," she says dryly, draped in baggy sweats and thick socks, sipping coffee and staring out the window at where the bay bridge would normally be, cozy in a home literally inside of a cloud.
bkr is better.
- A thoughtful accumulation of details that together feel like luxury
- Silicone is protective, soft and grippy
- Never looks scratched or dented and sets down silently
- Never imparts weird, metallic taste or last-drink's flavor
- 100% dishwasher safe (caps only on the top rack)
- Glass is the cleanest, greenest material
- Non-toxic, no leaching (BPA-free, phthalate-free)
- Doesn't tip over easily
- Small mouth for easy, no spill sipping
- Leak-proof ergonomic cap
- TSA-friendly (take it through security empty)
- Forever reusable and 100% recyclable
---
Share this Product
---