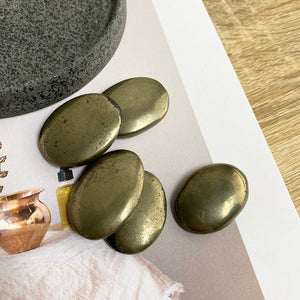 889
Pyrite Worry Stone
Regular price
$12.00
$0.00
Unit price
per
CONFIDENCE - SUCCESS - MONEY
Keep your head up! You got this, you are confident, you are courageous, you are powerful.
Pyrite is a stone of confidence and protection. It shields those who need a boost during tough times. Pyrite shields from negative energies and assists one in seeing behind facades. It helps to overcome fatigue and increase stamina.
If you are stressed and worry-prone, simply rub a worry stone.
Polished worry stone made from Pyrite. Sizes will vary slightly.
---
Share this Product
---